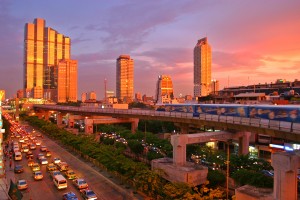 As Thailand recovers from the Asian economic crises in the early part of this century, the opening up of real estate in the popular tourist spot is making waves in the real estate market. To protect the Thai citizens, the government has set some rules regarding property ownership rights of foreign expatriates to the kingdom of Thailand.
Foreign nationals are not allowed to own land in Thailand. However, they are allowed to buy or lease a unit such as a registered Thailand condominium. A percentage of these condominiums in the same building or land should be owned by Thai nationals. Foreign nationals may apply and acquire registered leasehold of up to 30 years for certain types of Thailand property subject to government regulations and permission. If you are planning to buy Thailand real estate, the first step is to find a good lawyer who is experienced in these types of real estate deals. There are so many ways a well meaning foreigner can be harmed by fraudulent real estate transactions that a good lawyer is worth his/her weight in gold!
There are many steps to buying Thai property. First, a buyer has to know whether the seller is the rightful owner of the property and if the title is legitimate. This may require many trips to the local government offices and to find ways to test the legitimacy of a document or deed. As expatriates you should only consider land that has its own Chanote, Nor Sor 3 or Nor Sor 3 Gor.  There are the only types of land that may be legally sold or leased and which may be registered by the Land Department of Thailand. Without these titles, construction of any kind will not be allowed by the Thai Government. The next step is to see the land, survey it, and understand all the restrictions that the Thai government has specified on each type of property. Thailand Condominiums are easy to buy, but houses or other types of property that may have land included with it will be more difficult and may take longer to acquire.
As mentioned earlier, foreigners are not allowed to buy or own freehold land or hold more than 49% of shares in a Thai company which owns similar freehold land. When buying a Thailand condominium of house, hire a lawyer who specializes in such transactions. Have all papers ready including titles, survey documents, plans for the Thailand property, personal financial documents, passport information with copies, visa information, work permits if any or business visa information if necessary. Apply to the Land Department in their prescribed application forms. Buying a house is similar so long as you are just interested in the building itself. Buying the land in which the building resides requires more work.
When considering buying land in Thailand, a visit to the land Department of Thailand is recommended in person to find out the details of buying land in that country. If you already have a lawyer, this step may be avoided. Before purchasing any Thailand property, it is advisable to get a Foreign Exchange Transaction form (FETF) from the Thailand bank and transfer 100% of the prices in the currency of the buyer's home country. This FETF form will also be used when the buyer sells this piece of property later and wishes to take the money back to their country.
There are two types of leases that you can choose from:
1.    Long-Term Leaseholds – These are almost similar to freehold ownership of the property. The land is actually being leased for a period of 30 years. This may be renewed twice later for a total lease of 90 years.  For these years, you are the legal owner of the buildings that are on this piece of land.
2.    Limited Liability Company. If you would like to have more control of the ownership of this property, you can set up a "company" in Thailand where you have 49% of the shares as the Managing Director of this company. The rest of the shares can be held by citizens in Thailand who have the option of signing over the control to you. You will certainly need a lawyer in Thailand to assist you in working this option. As the majority shareholder, you have more control in what happens to the property (changes, upgrades, developments, etc.)  while you own it.
3.    If you happen to be married to a Thai citizen, it is easier to own Thailand property, including single homes or even land. For a Thai citizen to own land, all they have to do is to use money that belongs solely to them when buying the property. So, a spouse can create a legal document declaring that the funds belonged solely to them and get complete control of the property.
As many retirees move to Thailand, they would prefer to own the homes they stay in. Many of these retirees also trade in foreign goods or skills and would prefer to own the buildings in which their businesses are located. The Thailand government has set some restrictions on the sale of Thailand Real Estate so that the Thailand will belong to the Thai people and not to some other nation. By following the rules and regulations, most people wishing to make Thailand their home can live there happily ever after.